Custom Jewelry Design
Do you sometimes feel like your artistic soul is trapped inside a less-than-creative body?  If you long to express yourself and turn your own creative dreams into reality, contact me!  I'd love to work with you and design a piece of artisan jewelry to help you express your own perfect personal style.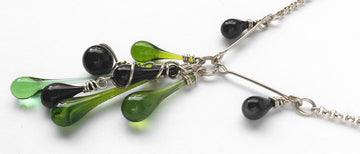 Add some artistic flair to your outfit today - and every day!
Below are a few of the custom pendant necklaces and ear rings I've designed.
Click here
to see more at the bottom of the page.
Large Circles Ear Rings, in recycled glass
Custom Jewelry Design
Aqua Tornado Calypso Earrings
Custom Alteration
Orange Double Kite Ear Rings
Custom Alteration
Aqua & Turquoise Triple Cascade Ear Rings
Custom Alteration
Ways you can work with me:
Not all items are listed in all colors in the shop, but if you've found your favorite ear rings, pendant, or necklace and want it in another color, we can do it!  Choose from the whole rainbow of colors shown here.   Even more colors may be available at any given time - I'm always experimenting with new glass, most of which never makes it up on the site.  Contact me if you have a certain color scheme in mind to find out what's currently available.
Special color requests - is what you're looking for not currently available?  Contact me to see if we can track down the perfect glass! (Additional fee may apply.) There are some color limitations simply due to the nature of the sun-melting process.  For example, sunlight passes right through clear glass without heating it up, while white and very pale colors reflect the light instead of absorbing it and heating up.  So, unfortunately pure white and completely clear glass cannot be made into Sundrop Jewelry.
Looking for something in solid gold, rose gold, or another material? Just ask!
Want to celebrate someone special?  Choose one birthstone color as a birthday or holiday gift, or combine the birthstones of your whole family in a multi-drop piece of artisan jewelry you can wear every day!
Are you looking for the l-o-o-o-o-ngest Sundrops possible? (The glass drops can be made up to 1.75-2 inches long, depending on the glass. The color and thickness of the original glass have a lot to do with how long the drops can be made using our process.)
Or do you love tiny, dainty droplets? Either way, just ask!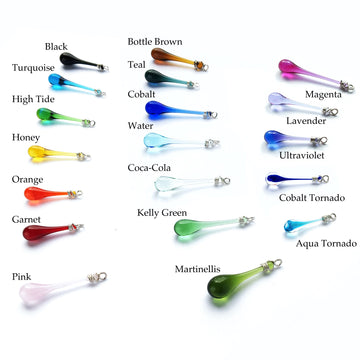 Have personalized jewelry made from your own glass. ($50 bottle processing fee)
Do you have a bottle you're holding on to - a bottle that holds such beautiful memories you can't bear to throw it away? Is it just sitting around gathering dust because you don't know what to do with it? Whether it's the champagne bottle from your wedding, or the bottle of Martinellis you drank to celebrate the birth of your first child, keep your memories alive by turning it into enchanting ear rings, a pendant or necklace you can wear any time!
Is this year going to be your best year ever? Celebrate! Save your favorite wine, beer, or liquor bottle and have it made into personalized artisan jewelry.
Work with me to create an original custom jewelry design just for you!
Contact me and describe your dream. Go ahead and attach sketches or photo inspirations if you have them. Price includes three rounds of design work.
Are you inspired by one of the existing designs, but interested in making a few tweaks? Some changes are simple, like adding an extra drop at the bottom of the Kite Earrings, or taking the second drop off the bottom of the Bohemian Earrings. Cascades with more or fewer drops... these are all fairly simple alterations that will be ready quickly, but still give you lots of room to express your own personal style!
Many types of custom work may take some time to complete. Any new glass work is weather-dependant, so the time frame will vary seasonally - roughly 2-3 weeks in the summer, but a winter order may require a couple months or more waiting for the weather and scheduling to cooperate.  Original designs will require time to design and have pieces made.  Since I'm primarily a glass artist, I work with other artists and metalsmiths around the US to create custom silver pieces for any given design.
I will give you my best estimate of the expected time frame along with the price quote.  A 30% deposit is due when the design is finalized, and the balance is due when your piece is complete and ready to ship.  Once custom glass or silver work has begun, the deposit is no longer refundable.
Contact me with any questions, thoughts, or ideas you might have - I'd love to work with you to design your dream!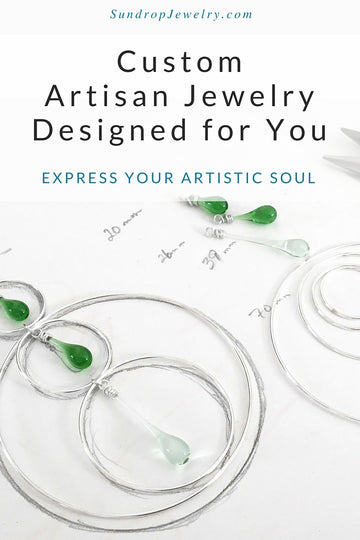 Want some ideas? Browse more custom designs below...
Cascade Earrings in vibrant swirling blues, pinks and purples
Custom Colors
Water spiral-wrapped ear rings, made from Bombay Sapphire Gin bottles
Custom Alteration
Overlapping Circles Ear Rings in kelly green, made from ginger ale bottles
Custom Jewelry Design
Layout for Encircled Cascade Ear Rings
Custom Jewelry Design - layout stage
Cobalt ear rings spiral-wrapped in sterling silver, made from recycled Skyy Vodka bottles
Custom Alteration
Turquoise and Aqua Tornado Double Kite Ear Rings
Custom Alteration
Sally's Extra-Large Pear Earrings in honey-colored stained glass, wire-wrapped style
Custom Jewelry Design
Long Kite Ear Rings in kelly green, made from ginger ale bottles
Custom Color
The result has always been beyond my expectations.
"I have always been passionate about my earrings, and I feel so fortunate to have connected with Tawny. She has made me several large custom made earrings, and the result has always been beyond my expectations. I have given several pairs of her earrings as gifts, and the recipients have been thrilled! She is a true artist, and totally committed once she gets going on a request, so expect receiving the order in a very timely manner."
Keep up the good work, and thanks.
"Did I ever tell you how much Deb loves this necklace!!!! She really did, and loves the colors and the back story of how it was made. Keep up the good work, and thanks."