Eco friendly jewelry by Tawny Reynolds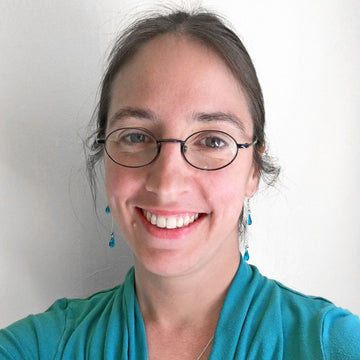 Do you love the vibrant, glowing colors of sunlight shining through a stained glass window?

The simple elegance and serenity of a raindrop?

Or does the geeky 10-year-old kid inside you just love the idea of melting glass bottles at 3000° Fahrenheit with a giant magnifying glass?

I'm Tawny Reynolds, and I design elegant, sun-melted glass jewelry for women who love color and the Earth.

The eco friendly jewelry of Sundrop Jewelry ranges from a dainty minimalist earring to big & bold artisan jewelry, but always retaining that vibrant thread of casual elegance with an eco friendly twist. Using a giant three-foot magnifying glass to focus sunshine, recycled bottles and stained glass are melted into flowing droplets, set in recycled sterling silver.
Our core value is living lightly on the Earth. Sundrop Jewelry is just one example of the amazing things that can be done with less...

- less trash from the glass bottles we melt down & repurpose,
- less toxic waste spewed into the environment by mining,
- less deforestation and wastewater used for making paper,
- and less emissions from the electricity we avoid using.

Best of all, all that 'less' somehow adds up to 'more'...
- more forests and wilderness,
- more clean air and water,
- more beauty in the world...

And it's a great story when someone asks, "Where did you get that necklace?"

Best,
Watch how quickly sunshine can melt glass! (With the help of a giant magnifying glass.)
What people are saying about Sundrop Jewelry...
I always get compliments
"Thank you Sundrop for the beautiful earrings! I always get compliments when I wear them and then I have fun telling them how they're made! Awesome…"
we all love that they are recycled!
"These are gifts for my bridesmaids, we all love that they are recycled! Thank you for offering such a great product!"
I LOVE IT!
"Excitement does not begin to describe how I felt when I saw my earrings!!!!!  ...They are perfect with what I am wearing.  "Sally Size", but so light.  I LOVE IT!!"